There are detailed posts scattered throughout this blog, although particularly prior to December 2013, regarding the work I undertook converting Jim from a cash-in-transit truck to a motorhome. Each of the blog posts includes relevant photos, but if your thirst for boring technical images hasn't been quenched, below are links to more of the photos that I took.
Please click on the gallery title to take you to the gallery page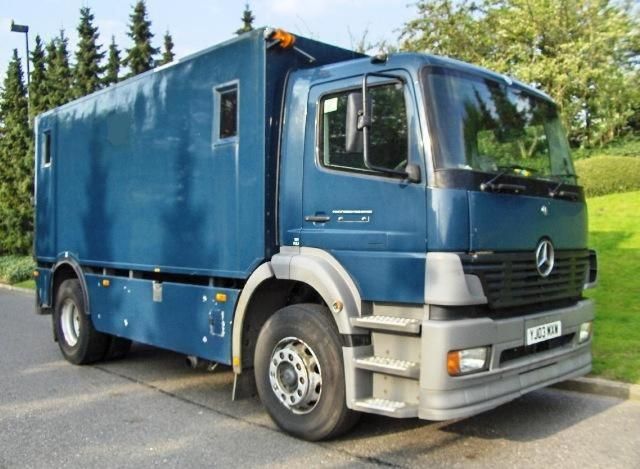 The early days
Photos of Jim in the first few months after buying him
Steps and Step Storage
Installing the brackets to use the standard army entry steps on my non-army truck. Fabricating and installing the brackets on the tail-lift to store the steps when travelling
Nearside Bench Seat Build
Building the nearside bench seat, and installing all of the equipment contained within it.
Offside Bench Seat
Finishing the offside bench seat, and installing the inverter and sub amplifier inside.
Over-Seat Console
Building a cabinet to create storage over the nearside bench seat. The cabinet tidies up the CCTV monitor, and holds the radio/CD player
Cladding the Front of the Truck
With the bench seats and overhead cabinet built and fitted, it was time to clad the walls and tidy everything up.
Cladding the doors
Cladding the side door and fitting insulation.
Roof Rack
Installation of the roof rack, awning, sol

a

r panels and decking
Bedroom
Turning the empty space at the back of the truck into a bedroom, complete with down lights, a radiator, storage cabinets and a 450 litre water tank.
Storage Cabinet
Fitting storage drawers between the bedroom and bathroom, and fitting an air conditioner at the bottom.
Webasto Water Heater Install
Fitting the Webasto Thermo Top water heater into the recess infront of the entrance step.
Gas Locker
Fitting a cabinet behind the gas locker door, to seal the gas cylinder from the inside of the truck.
Fridge Vents
Just when I though I was supposed to be filling holes rather than making more, I cut two big vents to let the heat out from behind the fridge
Kitchen
Fitting the last major piece of furniture into the truck, the kitchen. Also housing the water pump, water filter, accumulator tanks, and calorifier.
Awning
After having the awning fixed in place many month previously by Brownchurch, I finally got round to fitting the mounts for the storm bars, cutting the bars to length, and adjusting the angle or the canvas.
Water Tanks
Installing the freshwater and greywater tanks, including dump valves and level senders.
Flooring
Installing a plastic laminate flooring to cover up the steel treadplate.
Blinds and Curtains
All of the soft and fiddly things which I did not have the time or the skills to make.